The current rise of Philippine basketball at the world level cannot be achieved without worthy contributions from big men. Naturalized players Marcus Douthit and Andray Blatche has provided the Philippine quintet a different dimension to move up from 45th to 31st in the FIBA World Rankings in the past 2 years. Aside from these two fine gentlemen, the development of homegrown big men are as important to the national team. After all, national coach Chot Reyes hinted that Junemar Fajardo, Greg Slaughter, and Japeth Aguilar are an important piece in the future of Philippine basketball. All three stand 6'9" or taller.
In this article let us take a look at the young big men in Philippine basketball who has yet to crack a roster spot in the NCAA or UAAP.
George Isaac Go, 6'7", 200 lbs., Center
George Isaac Go, a graduate of Xavier School was part of the Philippine Under-16 national team in 2011 coached by Philippine basketball legend Rodericko "Olsen" Racela. He is now currently enrolled in Ateneo de Manila University and should be able to land a roster spot within the next 2 years after the expected departure of Chris Newsome, Nico Elorde, Gwyne Capacio, Kiefer Ravena, Fonzo Gotladera, and Von Pessumal.
Kmark Cari
ñ

o, 6'7", 200 lbs., Center

Kmark Cari

ño is a freshman at the Ateneo de Manila University. Little is known about this big fellow from Pangasinan who is only 16 years of age. We know that the Philippine Under-17 team that competed in the world stage recently was in need of size. That brings us to wonder whether this kid's size was not complimented with enough skills to be on that team. Are we seeing the second coming of guys like Frederick Canlas, Gian Chiu, or Jericho de Guzman?



Tzaddy Rangel, 6'7", Center
Tzaddy Rangel, the lanky center from Hope Christian High School and La Salle Greenhills has a reliable jumpshot that can extend beyond the arc and is blessed with decent hops to finish on top of the rim.
AJ Edu, 6'7", Forward
AJ Edu is a London-based Filipino-Nigerian kid who is 6'7" tall at a young age of 14. His parents inquired about how he can be part of the national youth basketball team program after the Samahang Basketbol ng Pilipinas sent out word that it is looking for young talent. While Edu does play a lot of center owing to his height, he moves more like a forward in his video.
Ethan Kirkness, 6'5", Center
At 12 years of age, Ethan Kirkness is 6'5" and he is part Filipino, part Australian. His family also expressed interest in him playing for the Philippines in international competitions. They are also open to moving to the Philippines to advance Ethan's basketball career.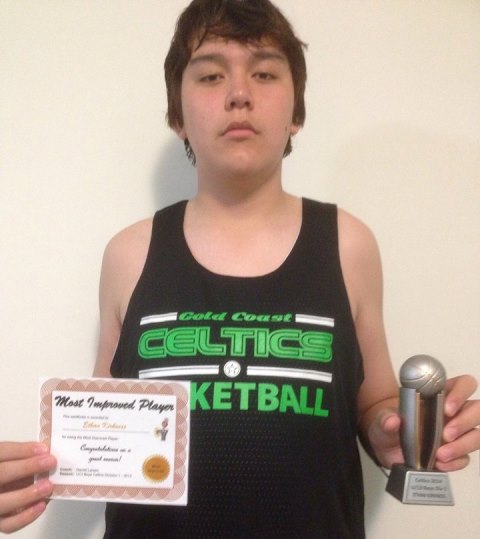 (photo from Philstar.com)
JR Sandalo, 6'7", Center
Pampanga's JR Sandalo is only 16 years old. He is said to be on the radar of the Far Eastern University Tamaraws.
(photo fromInterbasket.net forums)
If you feel there are other young big men not featured here, feel free to get in touch with us and we will be happy to write about them.