Gilas Pilpinas head coach Chot Reyes believes that three young players will play a huge role in the future of Philippine basketball. Reyes was referring to 7'0" Gregory William Slaughter, 6'10" Junemar Fajardo, and 6'9" Japeth Aguilar. Fajardo of Cebu is only 24 years old. Slaughter who also traces his roots to Cebu is only 25, and Pampanga's Aguilar is the oldest of the trio at 27.
Both Aguilar and Fajardo are currently playing for the Gilas Pilipinas national men's basketball team who is now competing at the 17th
Asian Games
in Incheon, South Korea. Slaughter begged off from inclusion in the team earlier this year saying he does not want to disrupt the team's preparations or ruin their chemistry. The tallest active
PBA
cager has since indicated that he is making himself available for future national team consideration.
Slaughter's recent pronouncements means that all 3 might be in the Philippine team's roster in the 28th FIBA Asia Championships in China next year. the 28th FIBA Asia championships will be the qualifying event for Asian teams vying for a slot in the 2016 Olympics. Along with Andray Blatche or Marcus Douthit who are both listed at 6'11", they are on track to form the tallest Philippine team ever with 4 guys standing taller than 6'9". It is also interesting that 26-year old Portland Trailblazer Robin Lopez has expressed interest in playing as a naturalized player for the Philippines. Lopez is listed at 7'0" and is a certified
NBA
starter. He will definitely an upgrade for Gilas should he acquire Filipino citizenship and represent the Philippines in
FIBA
-sanctioned events.
With Slaughter and Fajardo teaming up, the Philippine quintet can see more twin tower combinations in games. Fajardo and Slaughter can alternate at center, while Blatche can slide to power forward. When Douthit will be lined up as the Philippines' naturalized player, the center rotation will really be deep while Aguilar can focus his energy playing the power forward spot.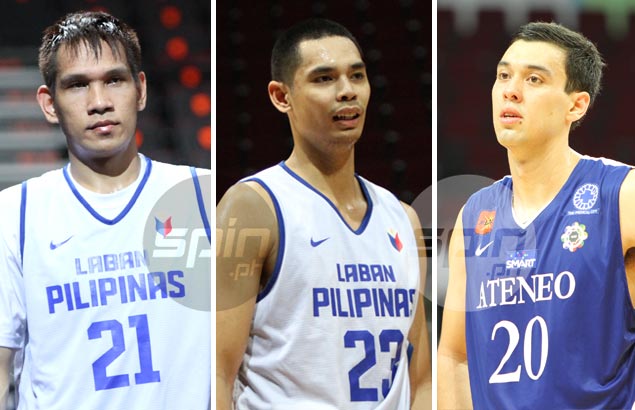 (Photo from Spin.ph)